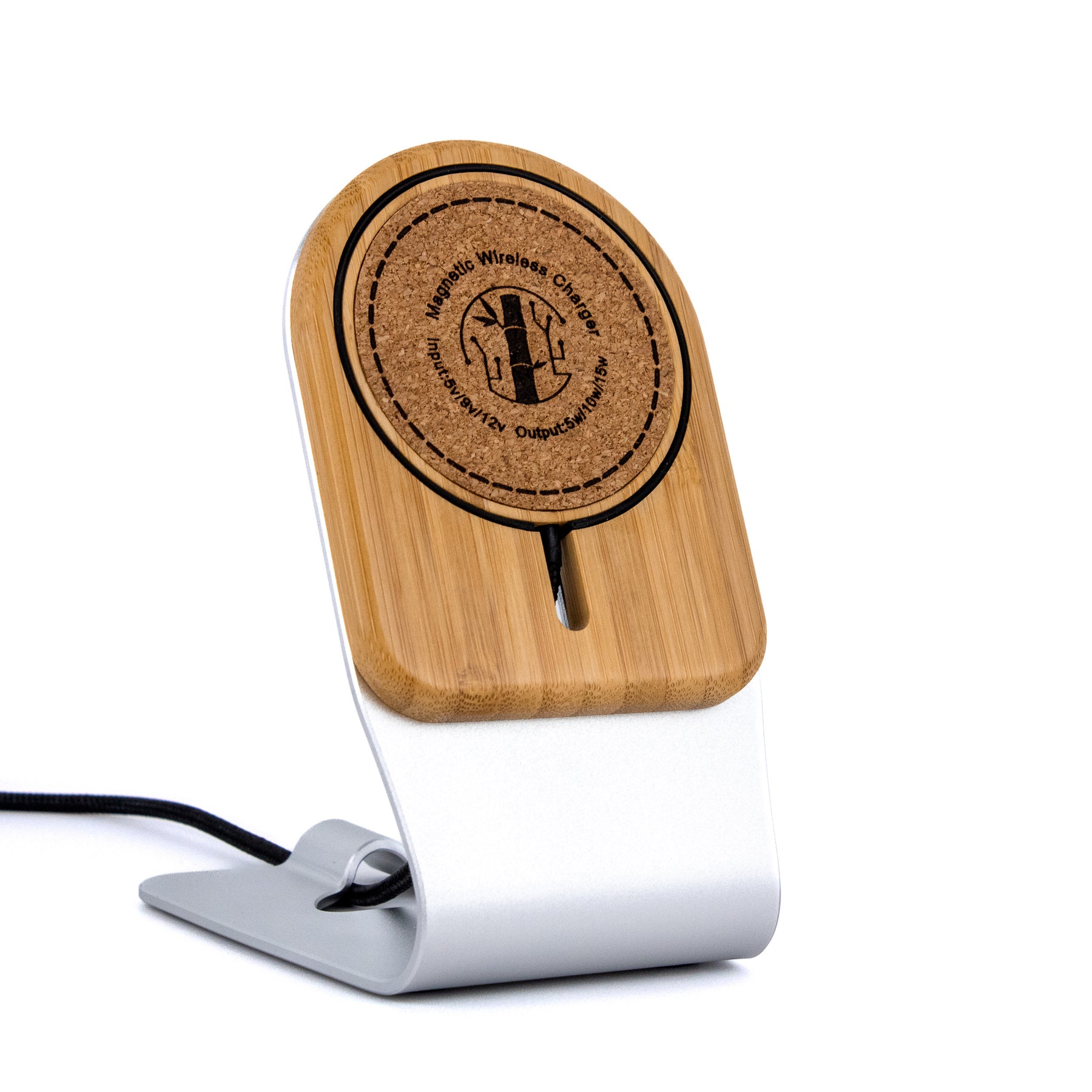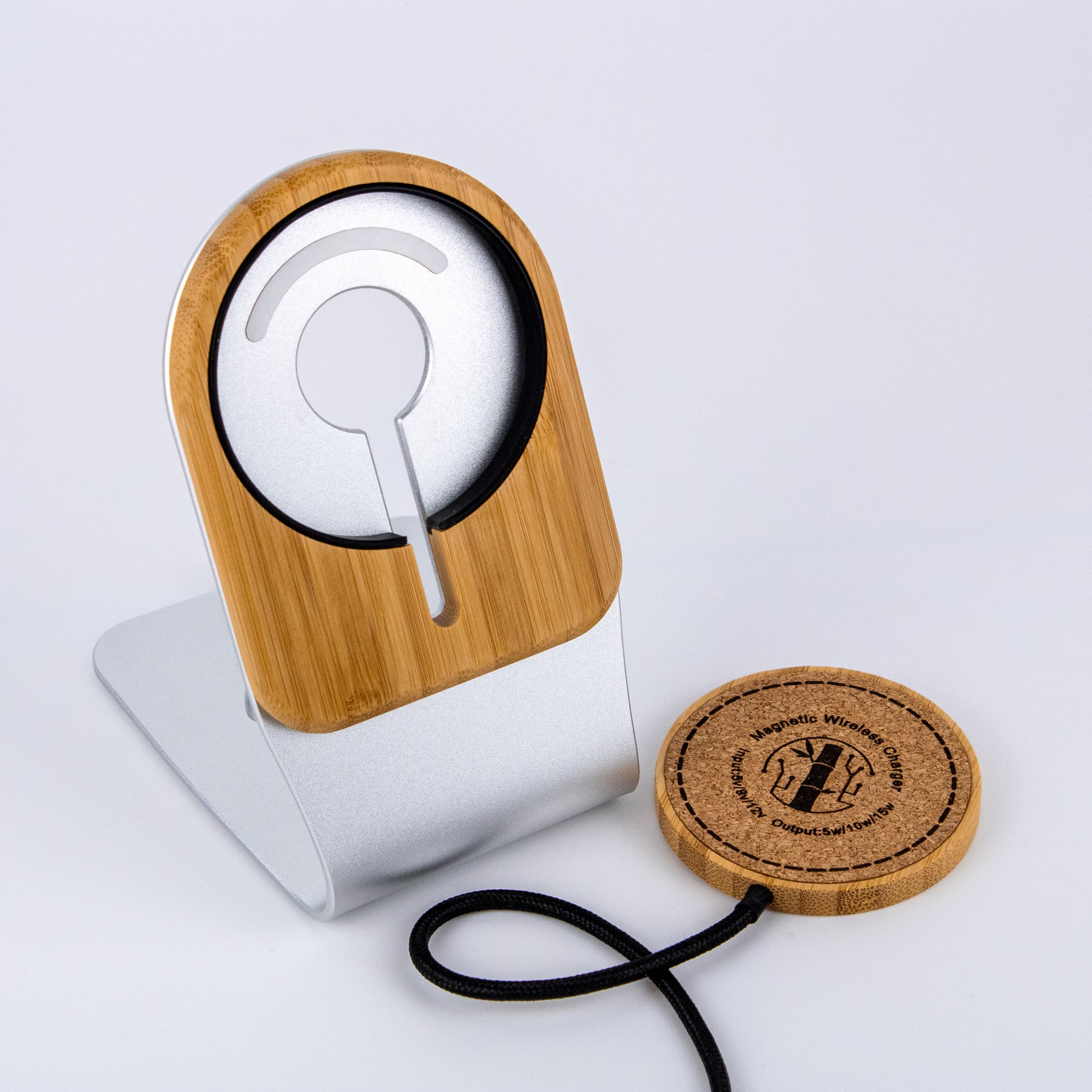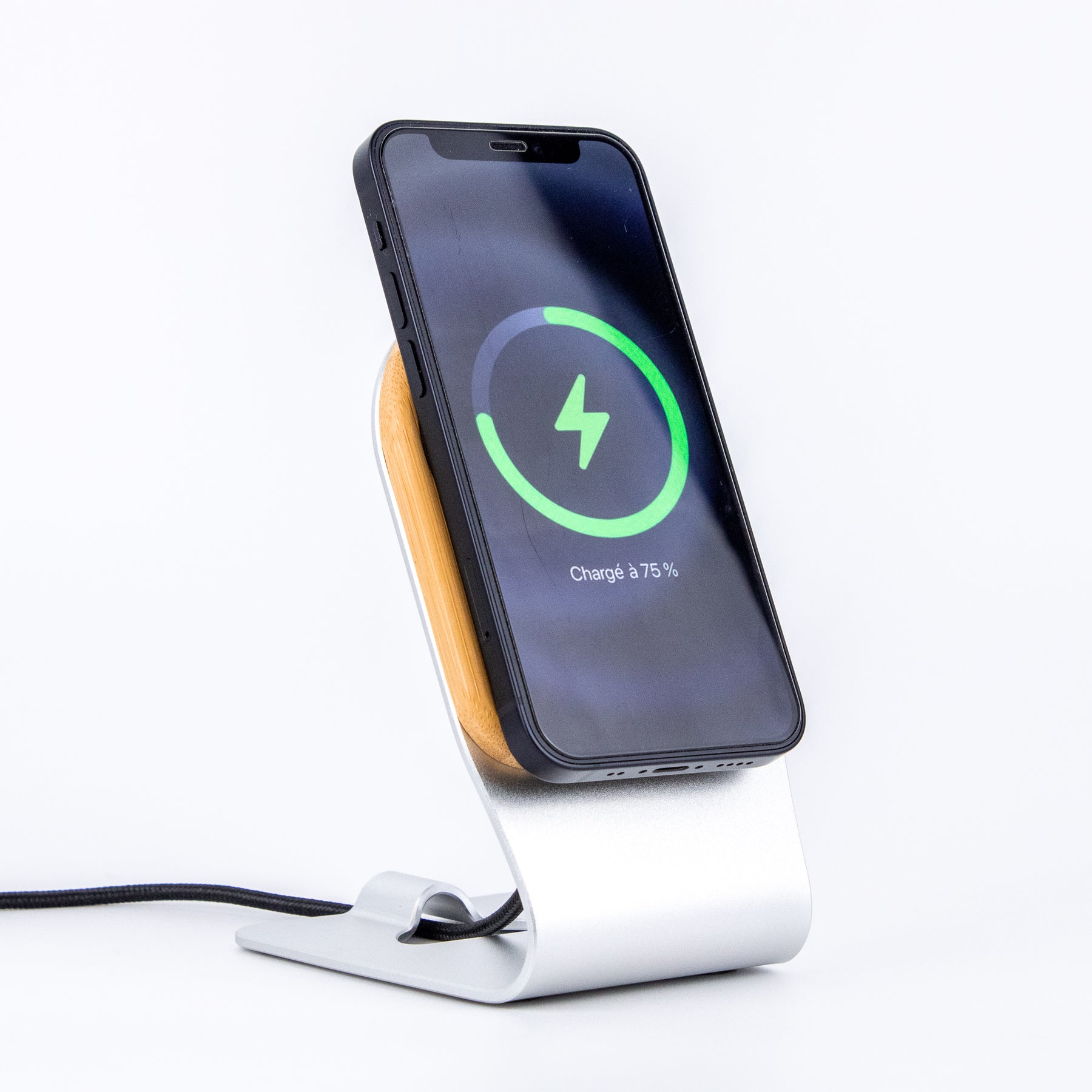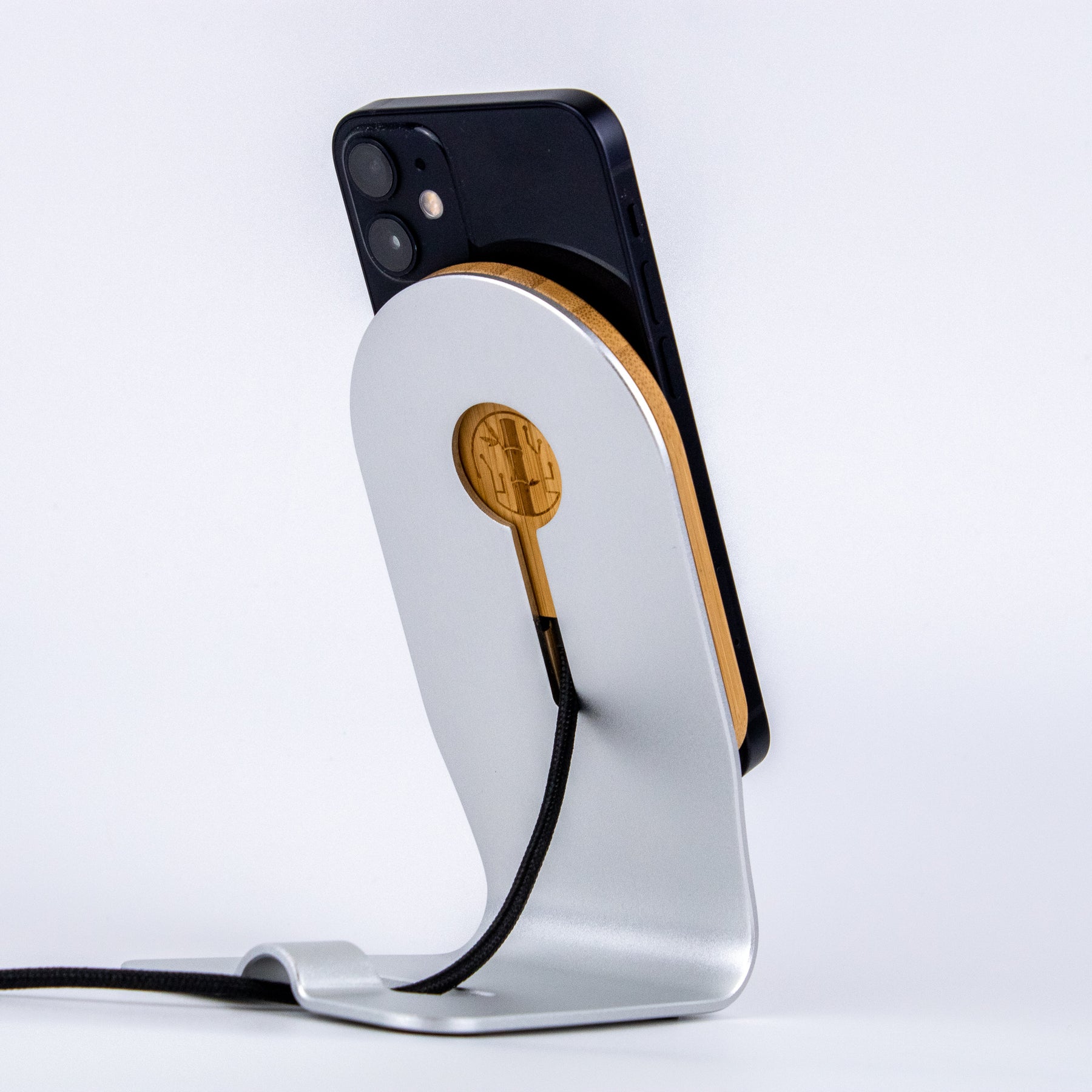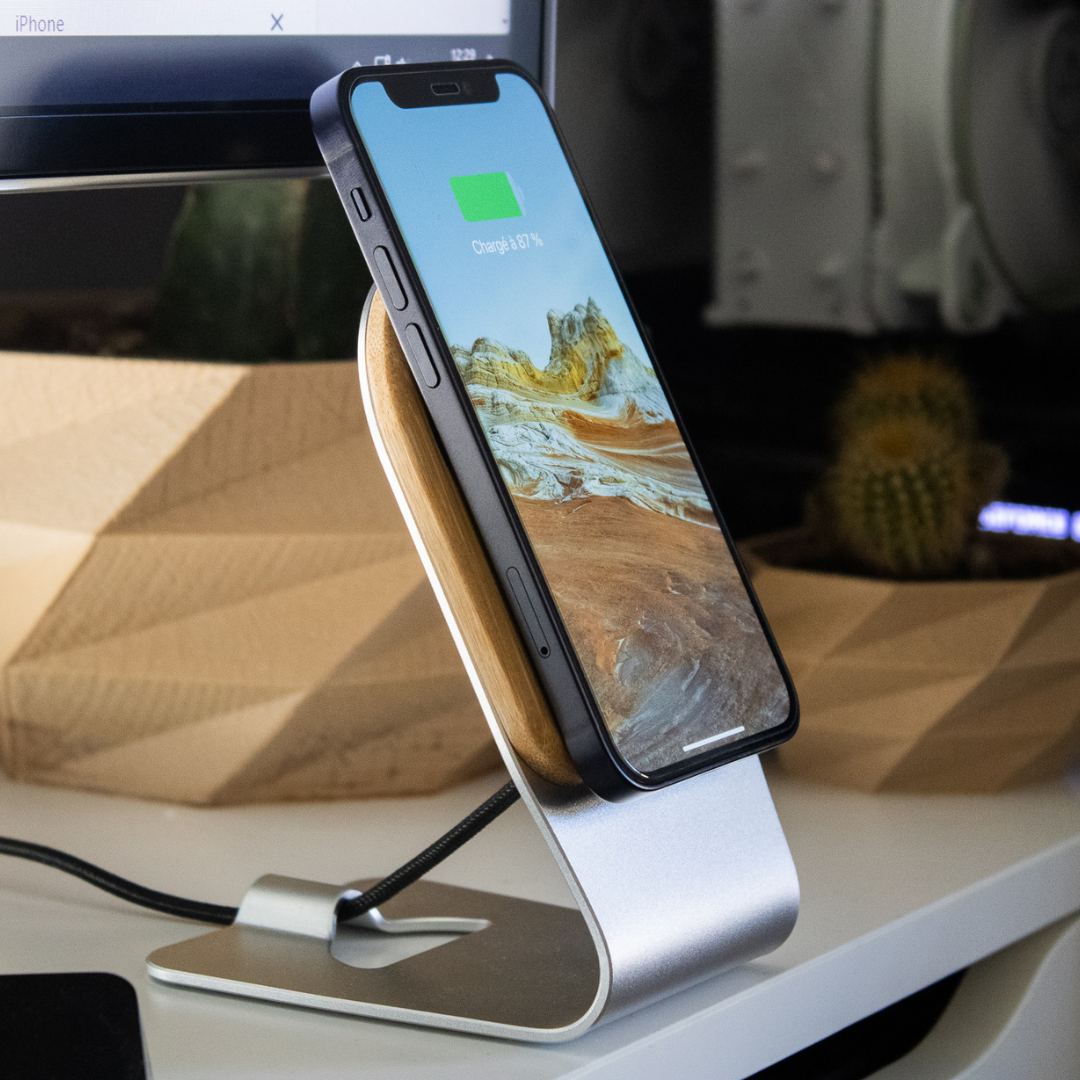 Charger Magsafe 15W + vertical support
Pair Magnetic Wireless Charger at its vertical media and position your phone to the desk in an ideal position, while now at full load.
In a natural bamboo body, with a soft cork surface for contact with the back of your phone. Load efficiently and conveniently with fast load up to 15W.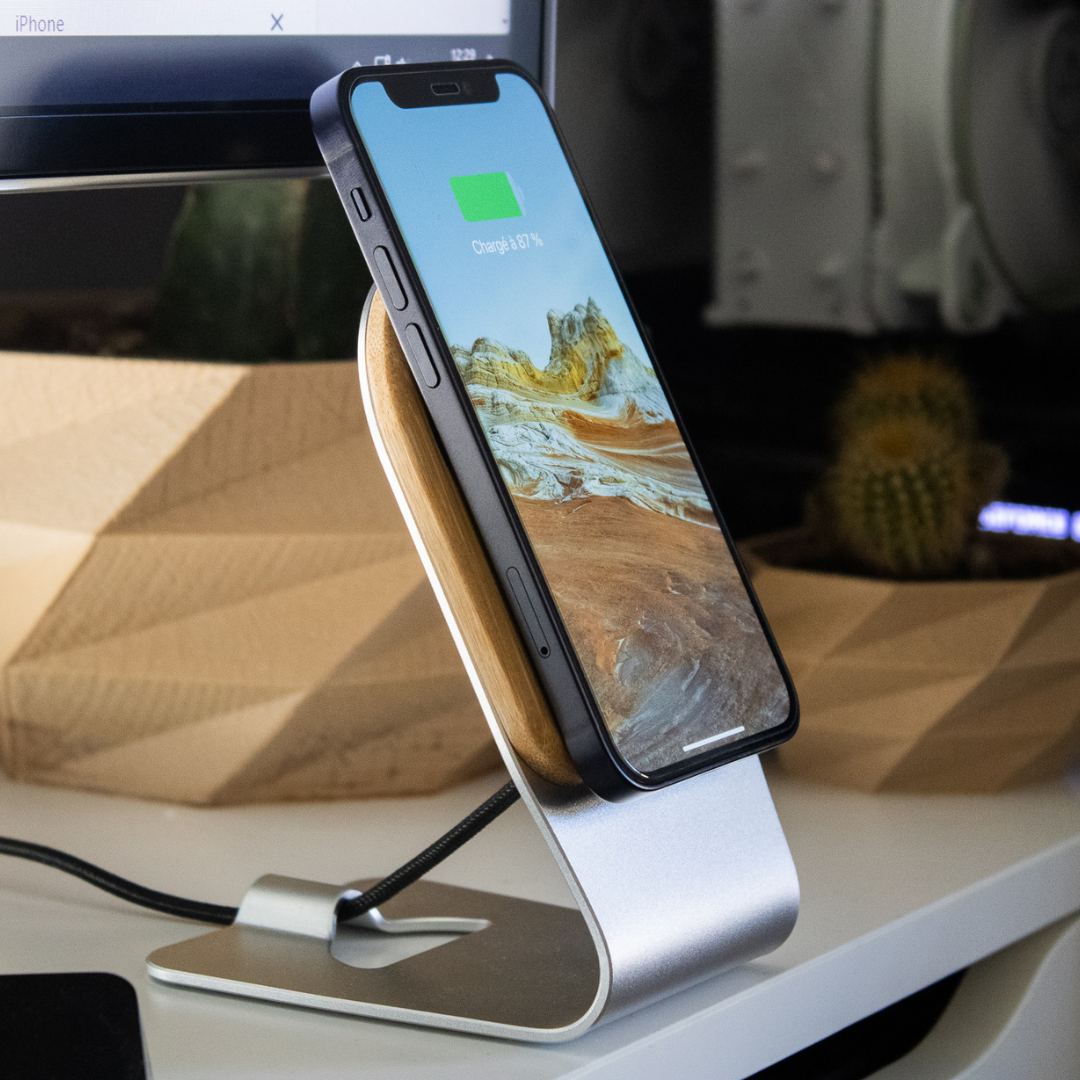 Enjoy a vertical bracket welcoming our detachable magsafe charger. Load your iPhone instantly, without connecting cable, while leaving it available and easily usable for a video, audio, or unlock FaceID.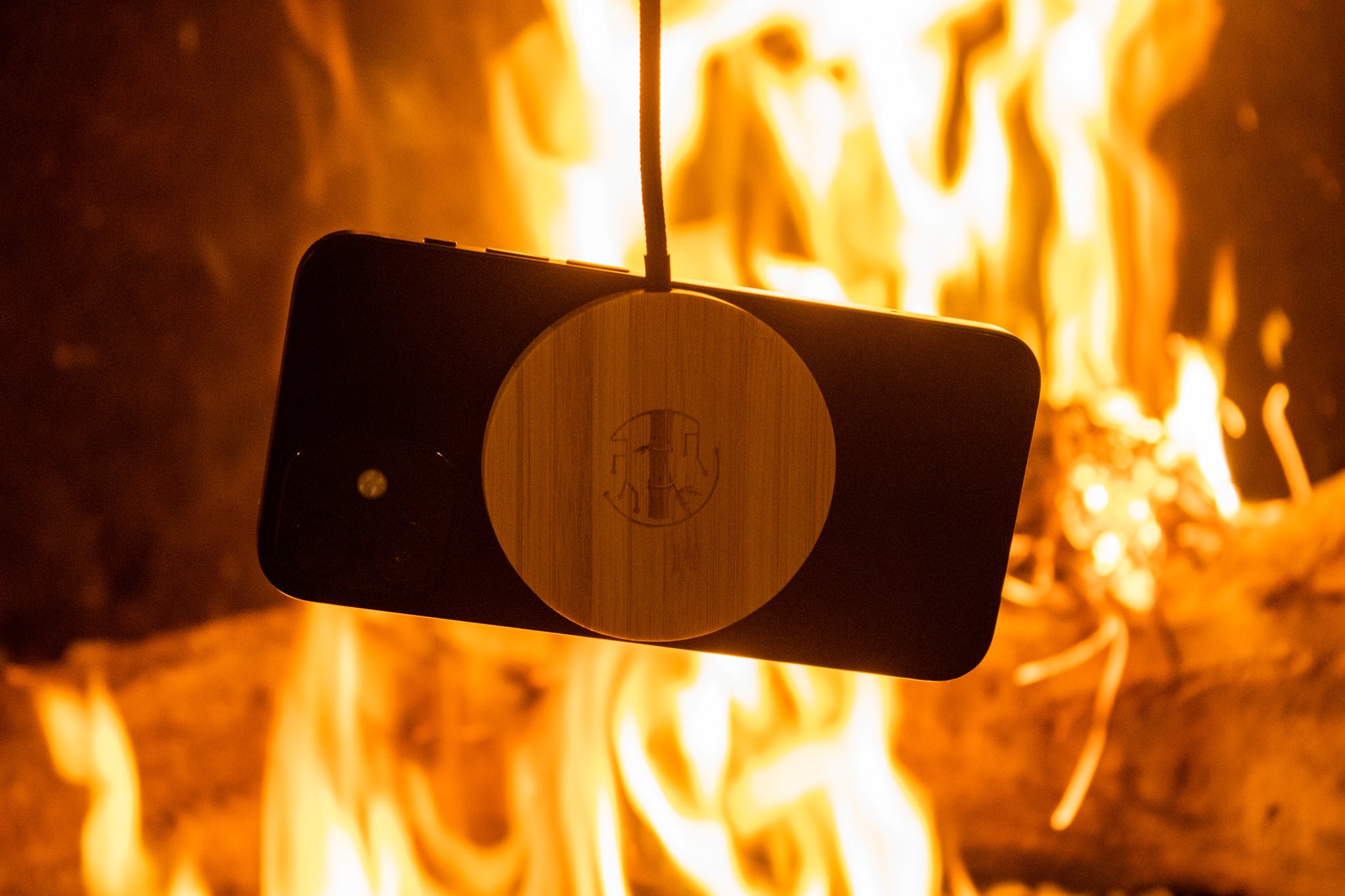 Be serene thanks to the powerful Magsafe-compatible magnet, place your charger and your iPhone with enough force to keep it safe.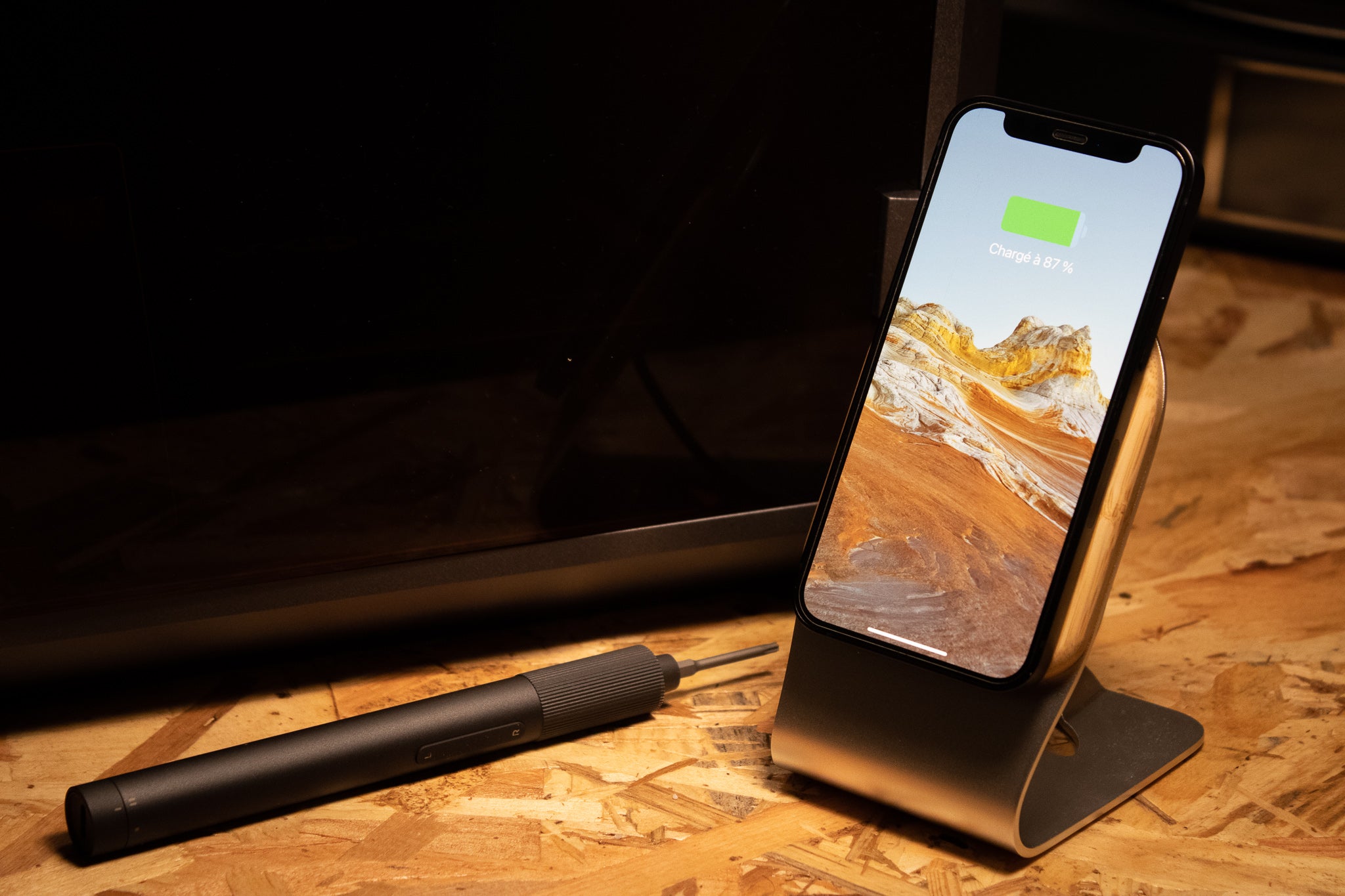 Enjoy charging simplicity with universal USB c cable and optimized cable passage. The support is secured by anti-slip pads at its foot.
Jolie, aspect écolo et efficace
Ce chargeur à induction est jolie esthétiquement avec sa couleur bois de bambou vernis coté extérieur et liège en intérieur. Le câble de charge noir est en usb-c, tressé et renforcé par un matériau souple et semble résistant. Il est très léger, compact, donc facile à emporter avec soit durant ses trajets ou voyages.
Je l'utilise sur mon Iphone 13 pro 6.1" et aucun souci : l'aimant magnétique est assez fort et la charge prend de suite. Donc nickel pour ce produit compatible magsafe qui fait le taffe. EN terme de sécurité, il répond à la norme Qi, pour la protection de la surtension et de la surchauffe.
Autre gros bémol, le support, lui, n'est pas du tout compatible avec la taille de mon Iphone, 6.1". En effet, lorsque je le positionne sur le support, le cadre de la camera de mon téléphone décolle légèrement le chargeur, ce qui lui fait perdre de son magnétisme et donc ne tient pas assez bien, si ce n'est en position horizontale. A la moindre vibration, il tombe. Ce n'est pas du tout rassurant. Donc, je n'utilise que le chargeur, sans son support. Bien dommage que cela ne soit pas signalé dans le descriptif ...
Donc oui, ce chargeur seul est nickel pour moi, mais le prix reste plutôt élevé pour du compatible magsafe. Voila, j'espère que mon avis vous sera utile.
Joli & pratique
Chargeur support très joli
Très bonne qualité
Efficace et peu encombrant
Très bon produit
Très beau design, mais qui se paie au prix fort, pour des fonctionnalités classiques (MagSafe + 15W)
Chargeur par induction magnétique avec un très beau design, mais qui se paie au prix fort.
Dans le pack, il y a le chargeur par induction magnétique (qu'on peut acheter séparément pour 20 € de moins) et le support vertical.
Le chargeur par induction est comme stipulé magnétique, compatible MagSafe, les derniers modèles d'iPhone compatibles s'alignent et s'aimantent donc dessus sans aucun souci. Il est composé de liège sur sa face avant et de lames de bambou collées sur sa face arrière. Il possède un beau design et de belles finitions.
Le support vertical est lui en tout en alu, de bonne qualité avec une finition mat et un parement en lames de bambou collées, dans lequel vient s'insérer le chargeur par induction magnétique.
A noter qu'à la première utilisation, j'avais installé le chargeur avec sa face arrière en bambou, devant ; cela me paraissait plus logique d'un point de vue esthétique, toute la surface étant ainsi en bambou...
Il est livré sans chargeur, c'est le cas de tous les produits de ce type actuellement. Le connecteur de son câble est au format USB-C. Il vous faudra donc un chargeur USB-C. A noter que son câble est non amovible et qu'il n'est pas suffisamment long.
Il est compatible Qi et supporte une puissance classique de 15 W maximum.
Testé avec un iPhone 13 muni de sa coque silicone (non MagSafe), le téléphone ne s'est pas aimanté et la charge n'a pas fonctionné. En enlevant la coque, tout a fonctionné parfaitement. J'imagine qu'avec une coque compatible MagSafe, il ne doit également y avoir aucun souci.
Malgré une belle qualité de fabrication et un superbe design, je trouve le prix très élevé comparé à des produits concurrents qui rendent le même service. Certes ils sont moins beaux et moins qualitatifs.
Remarques sur la technologie de charge par induction :
- La technologie de charge par induction est plus pratique (pas de câble à brancher), cependant, il est de notoriété publique qu'elle est plus lente qu'une charge filaire. C'est vraiment une question de différence technologique. Donc, si vous recherchez une charge rapide, prenez un chargeur filaire QC 18W ou USB-C PD 30 avec un bon câble. D'autant plus qu'il vous en coûtera moins cher que ce chargeur par induction + un chargeur pour l'alimentation.
- La charge par induction étant plus indiquée pour une charge lente de nuit, sachant qu'une charge lente prolonge la durée de vie de la batterie. En effet, les charges rapides sont plus agressives sur les batteries, qui chauffent plus au passage.
- Sinon, pour les allergiques aux câbles à brancher, il y a aussi la solution avec les câbles à connecteurs magnétiques.
En conclusion : un chargeur par induction compatible MagSafe, somme toute classique (15W), certes avec un superbe design, mais qui se paie au prix fort. De plus il est livré sans chargeur et son câble non amovible n'est pas suffisamment long. Produit recommandé pour ceux qui recherche un chargeur par induction avec un design qui sort de l'ordinaire et pour qui le prix n'est pas un problème.
Notation détaillée :
- Prix : 1/5
- Qualité : 5/5
- Fonctionnalité/ergonomie : 4/5
Très bon chargeur!
Ce chargeur à induction est esthétiquement beau. Le coté bois/liège est vraiment agréable.
Il n'est pas nécessaire d'utiliser le support. Le support est très pratique car il dispose d'une partie aimantée. Toutefois, l'aimant ne fonctionne pas avec tous les types de téléphone. En effet, il est indiqué dans la fiche produit une compatibilité avec les iphones de série 12 et plus.
Le produit est livré uniquement avec une prise USB-C (dommage au vu du prix que le produit ne soit pas livré avec un adaptateur).
Néanmoins, je trouve le temps de charge ultra rapide. J'apprécie particulièrement l'absence d'un petit petit bruit de fond (une sorte de grésillement) que je retrouve souvent dans les stations de charge plus classique. Je l'utilise dans ma chambre afin de charger mon téléphone la nuit et tout fonctionne.
Son petit format le rend très facilement transportable. Il prend quasiment pas de place.
Globalement, je reste satisfait de ce produit (malgré les petits bémols).
Beau chargeur j'adore
Je suis très contente de ce produit. Son design est parfait. Élégant. Sobre. Minimaliste. Il se fond dans le décor Ultra pratique Aucun problème de mon côté. Les aimants sont assez puissants pour bien accrocher le téléphone, même à travers une coque moyenne. La charge fonctionne correctement. Je n'ai pas mesuré la puissance , vitesse de charge, mais cela me semble au moins équivalent à mes autres chargeurs sans fil. Ah bon rapport qualité J'adore.